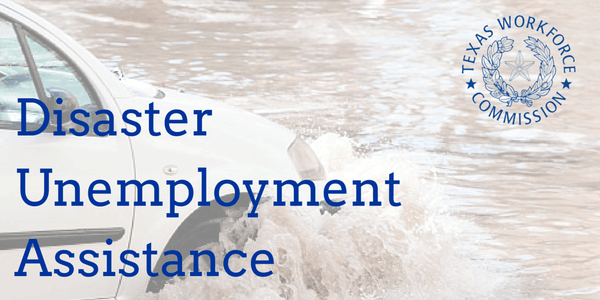 Disaster Unemployment Assistance
If you are among the large group of individuals who haven't been able to return to work for more than a week because of the severe flooding and weather from Hurricane Harvey, there are some options to recoup your lost wages. Texas Workforce Commission in conjunction with FEMA have announced the counties that eligible for disaster unemployment assistance.
The deadline to apply is fast approaching!
What is Disaster Unemployment Assistance:
Disaster Unemployment Assistance (DUA), also referred to as Disaster Relief and Emergency Assistance, is a federal program which temporarily provides benefits and compensation for individuals who are unable to work as a direct result of a major disaster. The state decides which counties the program is eligible in and the time period the financial assistance will be provided for.
The DUA and FEMA are not the same program and have different regulations when applying for assistance.
Who is Applicable:
Individuals who reside in the counties provided by the state. The counties eligible in Texas include: Aransas, Bee, Brazoria, Calhoun, Chambers, Colorado, Fayette, Fort Bend, Galveston, Goliad, Hardin, Harris, Jackson, Jasper, Kleberg, Liberty, Matagorda, Montgomery, Newton, Nueces, Orange, Refugio, Sabine, San Jacinto, San Patricio, Victoria, Waller, and Wharton.
Individuals whose inability to return to work due a direct result of a major disaster.
Individuals who can no longer provide services or work due to destruction or physical damage to their place of employment caused by the major disaster.
Individuals who have become injured due to the major disaster.
Individuals who lost their job. (Earning from said job must make up 50% or more of your annual income)
How to Apply:
There are two options two apply for the Disaster Unemployment Assistance.
You can fill out the form and apply online directly on the unemployment benefits website.
The Texas Workforce Commission also has a call center available on weekdays from 8:00 am to 5:00 pm. They can be reached at 1-800-939-6631.
In order to apply, you will need the following:
Your employer's business name and address
Date you began working for your employer
Date of the last day you were able to work
The amount of hours you work
The wages you earn
What to Do and Expect After Applying:
The next step will be to complete the work search registration at www.WorkInTexas.com. This must be done within three days of applying for your Disaster Unemployment Assistance. If you are self-employed and are working towards re-opening up your business, you are not required to fill out this form.
You will then have 21 days from your application date to send the Texas Workforce Commission's office proof of unemployment. This is usually provided by your employer.
Unless TWC says you are exempt, you must begin actively searching for a full-time job. If your employer provides you with documentation saying you will be able to return to work within the next 12 weeks, you will also be exempt from needing to search for a new job.
Wait for TWC to mail you a Payment Request form. Fill this out and mail it back to them. This will begin the process of reviewing your request and sending you the temporary compensation.
If you are unable to receive mail to your home, provide TWC with an alternate address they can send the form to. This document is important and should be returned back them as soon as possible.
How Long Will the Benefits Last?
The maximum time the Disaster Unemployment Assistance sends benefits for is 26 weeks. Once an individual returns back to work, the benefits are no longer provided. Also, if the cause for unemployment is no longer directly related to the major disaster, the benefits are no longer provided.
Is there a Deadline to Apply?
Yes. The deadline to apply for most counties is September 27th.
If you would like further information on applying for the disaster unemployment assistance program, visit their official site at www.texasworkforce.org or call 512-463-8942. Our thoughts and prayers continue to stay with all those affected by Hurricane Harvey.